Affirmative opt-in setting - giving people the option NOT to sign up to your list
Data Team and GDPR team recommendation
The recommended default for all XR email list is to NOT tick the affirmative opt-in. This is because this option is not recorded anywhere in the database, so it is not useful for tracking or GDPR reasons. The tick box we DO recommend adding to ALL forms is the standar "GDPR (GDPR_consent)" question. This should be placed on all forms and set to 'requrired' and 'always show'.
Explanation of the 'affirmative opt-in'
There is a way to create an action (eg. an event/form) and give people the option NOT to sign up to your list. BUT it will apply to ALL the actions/forms within your group so isn't something to use on a main email list.
It is more likely to be used for a small 'sub-list'
Example below uses an imaginary list we'll call it Tinkerbell's list!
While 'managing' your list go to the setting tab and turn ON the affirmative opt-in

Then when you create an action you get an extra question (with a yes/no option) added to the bottom of your form, which asks if the person wants to join your list or not.
If they click no, then the outcome of this is that the person's data will be viewable on your FORM answers only, but they won't be subscribed to any of the lists. This does then mean you now don't have the right or ability to email them! Except once via the auto-response with e.g. an event confirmation/info.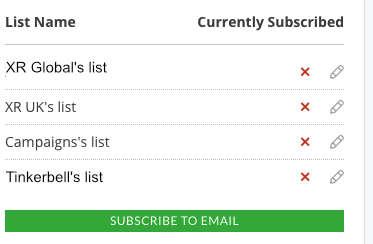 There would have to be a very unusual and specific reason for needing to do this - as the main aim of all of our events and actions are to ADD people to the email lists, not lose them.
NOTE: The advised way to have a checkbox for permission to join email lists is to use the standard GDPR question in all forms and events.
Email tech@rebellion.earth if you have specific questions about this.