Roadmap for Stages 3 & 4
As the Assembly nears the end of the second stage of its process we are now looking to how we can get a strategy to the movement in as timely a way as possible. The following roadmap has been developed to guide the Assembly through the final stages in the hope of releasing a strategy in id Feburary.
The intention is to:
Get the SDT formed and working on drafts as soon as possible
While the Assembly deepens its shared understanding of Strategy with various inputs
While remaining available to address points of contention discovereed by the SDT as they draft and revise.
The Plan
Milestones
There are three milestones we must hit if we are to produce a strategy:
Forming the Strategy Development Team. (Information on how this is done can be found here)
Producing a Draft Strategy
Publishing a Final Strategy
Note: Milestones do not move easily.
We will be sticking to our existing pattern of meethings (Tuesdays, Thursdays, and Saturdays) where we have scheduled plans for the weekday meetings and are more flexible on Saturdays. So there is space for adjustment as needed within the sessions but each milestone must be met.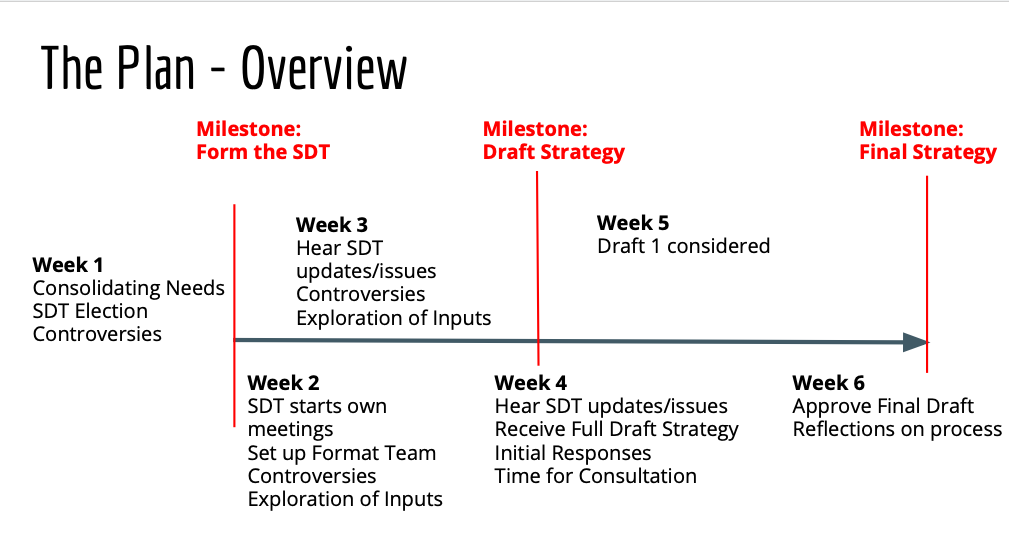 Sessions
To see a more detailed breakdown of our current plans for upcoming sessions have a look here.
As the SDT will have separate meetings each week to draft the strategy the UKSA will have time in their meetings to explore further the inputs to the process, to start thinking about a team to look at how the strategy will be formatted and delivered to rebels, as well as hearing updates from the SDT and helping to resolve any issues or controversies that arise.