Strategy Process & Review Cycle
Strategy Process
A rough outline of the process could be brought down into the following:
Stage 1
Assembly get to know each other, build trust and mutual understanding. Review previous strategy and reflect on the things which truly had an impact.

As we leave this stage the Assembly should have an idea of who their peers are, what their skills are, and why they have stepped into this process. This will help the Assembly to elect the SDT.
Some time will also be given to reflecting on the previous strategy as well as the current landscape within and outside of the movement.
Stage 2
Process of convergent facilitation takes place to ensure every need within the Assembly is taken into account in the next strategy. Focusing on what overall headlines should be in it to move forward, and what the strategy needs to look like to be useful to the movement.

As we leave this stage the Assembly should have a list of needs which the final product must meet. Focus will be made on what needs to be in the Strategy as well as how the Strategy is presented for people to engage with.
We do this so that all views and needs are noted and therefore considered in the following stages and so the Assembly as a whole is advocating for everyones needs rather than an individual holding their own flag.
Stage 3
Assembly starts to answer the needs identified and SDT start to draft the strategy.

By this stage the Assembly will have elected the SDT and that group will be focussing on drafting parts of the strategy and proposals.
The rest of the Assembly is there to review what is being produced with short feedback loops ensuring that drafting is on the right track and that each of the Needs is being met.
Stage 4
Decision making stage. Where assembly agrees on exactly what will be in the next strategy. Pulling together the work of all previous steps.

Assembly comes together for key decision making in this Stage. They consider al the drafts and proposals produced by the SDT and settle on which should go into the product.
This will be collaborative and constructive, the aim is not to pit drafts against each other but to land on an imperfect step forward that satisfies everyone's needs.
Next Stages & Iterations
It is vital to bear in mind throughout this process that this is merely the first iteration of ongoing work.

The product of this first stage will be imperfect and that is both okay and expected.
Strategy must be dynamic and therefore cannot, for a movement such as ours, be fixed over long perieods of time.
There is a second product of this process, and that is the experience of those involved. Each stage must be reflected on and amended so that the 2nd, 3rd, and 4th iterations learn from those that came before. That, which is painful now, will teach us how to do this better.
---
Strategy Review Cycle
The Strategy Stewardship Team (SST) is recommending that the UK Strategy Assembly (UKSA) and Strategy Development Team (SDT) formally review the strategy around three times a year to start with. Depending on a number of factors including the external environment and internal capacity/appetite.
In-between review periods, UKSA can call SDT together to act as a rapid response unit to deal with unanticipated/fast developing events that have the potential to impact the strategy, or require a strategic response.
Example Timeline:
| Jan | Feb | Mar | Apr |
| --- | --- | --- | --- |
| | Gathering Data & Insights | Review Previous Strategy | Strategy Development |
| May | Jun | Jul | Aug |
| --- | --- | --- | --- |
| | Gathering Data & Insights | Review Previous Strategy | Strategy Development |
| Sep | Oct | Nov | Dec |
| --- | --- | --- | --- |
| | Gathering Data & Insights | Review Previous Strategy | Strategy Development |
---
Below is a pictorial interpretation of how the movement will feed their insights and feedback into the UKSA followed by how the UKSA (which represents the voices of the movement) will work with the SDT (who will write the documentation) interact through consultation and insight. It also demonstrates how the External Advisory panel supports the SDT in achieving their aims.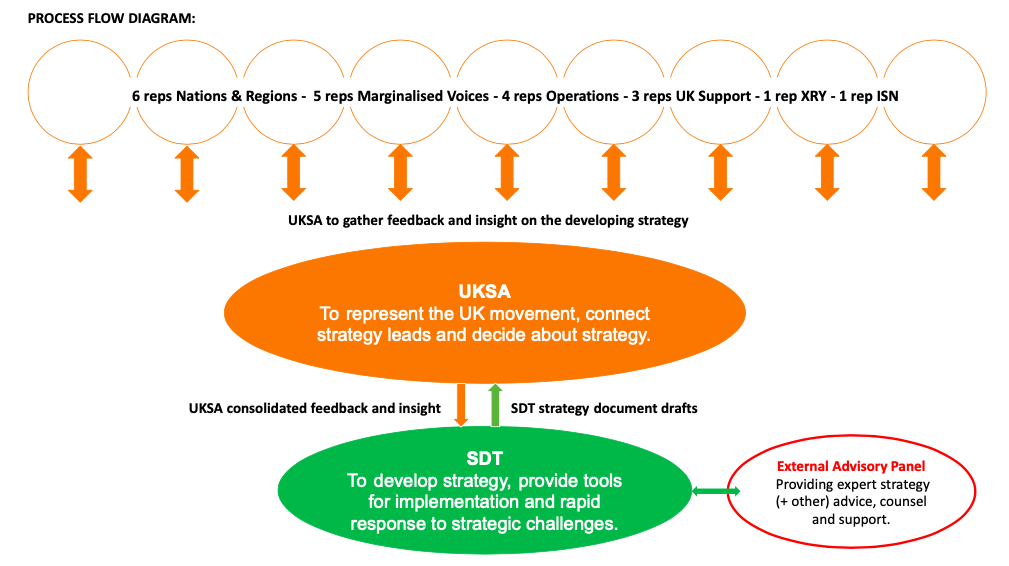 Critical Success Factors
The following need to be met for the suggested process to successfully be carried out:
During the intense four-week development phase, support will be required for SDT.
UKSA and SDT need to set out clear team structures, orientation, roles and responsibilities, and ways of working right from the beginning.

This was not properly considered in 2019 and contributed to general team dysfunction and significant stress for individual members.

All UKSA and SDT meetings will require trained facilitators experienced in conflict resolution or a specific style of facilitation to ensure that differences of opinion do not lead to power-over dynamics, decision paralysis or burn-out.

The Facilitation Team, as outlined in this document, should be identified in advance with the UKSA IC (or Support Team) responsible for liaising with and booking facilitators.

The approval process needs to be clear, efficient and fit-for-purpose for a 3 x yearly review cycle. SST is recommending that UKSA is mandated to approve the UK XR strategy to allow for that.
The strategy should identify and set suitable metrics by which its success will be measured.
The strategy shall be inspired by XRUK's Vision and express our Principles and Values. As outlined Here.