UKSA Core Meeting 3
Tuesday 1st December 2020 9am to 12pm
25 representatives present (21 present at 9am)
1. Proposal for Working Agreements for this Assembly
See Proposal HERE.
The proposal was taken through the integrative desicion making process which allows space for clarifications, reactions and objections. The threashold for an objection is "Seeing a concrete harm in the proposal or that it will take us backwards."
Integrated Objections / Proposals
Include breaks at least 5 minutes per hour
Stepping up and stepping back - gentle reminder that we should be prepared to let lesser heard people speak
To connect up listening circles (Sustain all Life) with BIPOC anti-oppression
Unresolved Objections to Section 3 (Decision Making)
Cancel requirement all 6 groups should be present - Limit to ⅔
Requirement for all six groups hits the obstacle that XRY has only one rep
Proposal that all nations should be present to establish quorum
Quorum - positive weighting for marginalised voices
Proposal "at least half groups represented with at least one from MOV"
Tension named about how the super-groupings had been decided on
PROPOSAL ACCEPTED (apart from Section 3 - Quora and Decision Making)
Full session on Thursday (3rd) to include listening session, followed by proposals. Members invited to think carefully about the issues before Thursday's meeting - All members, including all those sharing seats, invited as this process question does not affect strategy.
2. Thinking about Strategic Picture: Where are we at as a movement?
Build up a mosaic of perspectives on where the movement is at the moment.
Main themes captured in heat-map:
Assault on sense-making, covid, culture wars, co-option by govt
XR not radical enough? Creative enough? More than civil disobedience
Should we break up movement?

Need for positive vision
go to where people are
connecting to working class
grassroots activity

Broaden approach or stay focussed on 3 demands?
Internal Concerns:

not unified enough
silos and separation
volunteer fatigue
lack of retention
stale and tired
shrinking
replicating toxic structures
need to be less top-down
renewed focus on shared goals
Broken Trust
need to strengthen regenerative culture
The map produced can be seen here: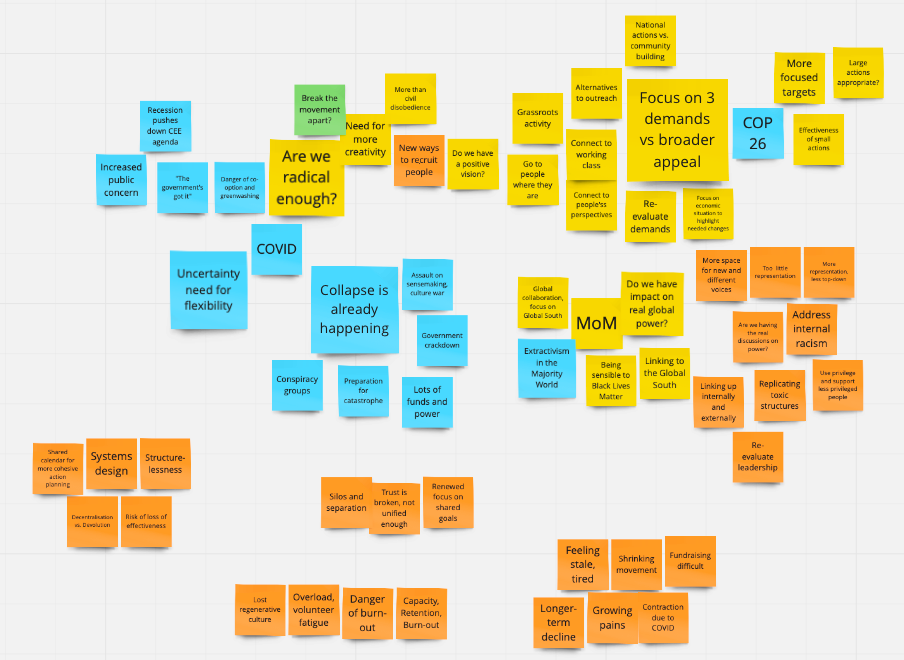 This discussion to be starting point for everything from now on.
To follow: Review of past year to provide indication of needs new strategy should meet.