2.1.5 More extreme storms and floods
internal references to solve:
part-3 Loss-of-grasslands,-mangroves,-wetlands-and-peatlands
part 5 What-will-our-world-look-like-in-2050-if-we-don%E2%80%99t-take-radical-action-now
part 5 What-will-our-world-look-like-by-the-end-of-the-century
---
"There's this remarkable building of this body of evidence that we're making these storms more deleterious." Dr. James Kossin, Atmospheric Research Scientist, National Oceanic and Atmospheric Administration
As global temperatures rise, warmer air and warmer seas result in an increase in the amount of water evaporating from the oceans. Warmer air is also able to hold more water vapour - its capacity increasing by 7% for each additional 1°C of heating. The resulting excess of water vapour in the air means that when the air eventually cools down enough for clouds to form, not only will there be more frequent rainfall than usual but there's also a greater chance that downpours will be heavier. This results in more extreme rainfall, storms and floods, with major impacts on food production. Indeed, 18% of extreme rainfall events are directly attributable to the heating we have already seen.
For example, extreme rainfall is increasing across the United States - in the North East the number of downpours have increased by a whopping 71% since the 1950s. This increase in rainfall is leading to worse flooding in many areas. Following the wettest 12 consecutive months in US history there were major floods in the Midwest: the Mississippi river saw high water in every sub-basin, with one town seeing over 200 consecutive days of flooding. The flooding massively delayed planting and suppressed yields for soy and corn across the region, prompting a plant biologist from the University of Illinois to state, "we are living climate change right now".
In 2020 we have already seen more record breaking flooding around the world. At the beginning of the year 175,000 people were displaced in Jakarta following its most intense rains on record. Japan's Kyushu region also experienced record breaking rainfall, with over 100 mm of rain falling in an hour. Over one million people were evacuated and thousands of properties were destroyed. Parts of China have also seen their worst rainfall since records began, with 40 million people affected as 33 rivers rose to their highest levels in history resulting in major flooding along the Yangtze, inflicting billions of dollars worth of damages.
Studies show that climate change has increased the extent and frequency of flooding in the UK and other parts of northern Europe too, particularly in parts of Northern and Western Britain. Indeed, the UK Met Office reports that climate change is causing heavy rainfall events to be getting more frequent in the UK. Extended periods of extreme winter rainfall in the UK, similar to those seen in winter 2013-14, are now about seven times more likely due to human-induced climate change and the heavy rains associated with Storm Desmond, an extratropical cyclone that hit the UK, Ireland and parts of Northern Europe in 2015, were made about 60% more likely due to human-induced climate change.
The UK saw extreme flooding in February 2020, with the Met Office declaring that it was the wettest February on record. Three storms battered the UK with weeks of heavy rain and gales of up to 70 mph and the Environment Agency was forced to declare a record 594 simultaneous flood warnings across England. Some regions received over 400% of their previously normal rainfall, and in East Yorkshire 78 homes and businesses experienced severe flooding, with some homes left almost completely underwater. In Wales, a month's worth of rain fell in 48 hours and the flooding of the River Wye was over half a metre bigger than anything seen for 110 years. The Environment Agency warned that people in the UK need to brace themselves for "more frequent periods of extreme weather like this" because of climate change.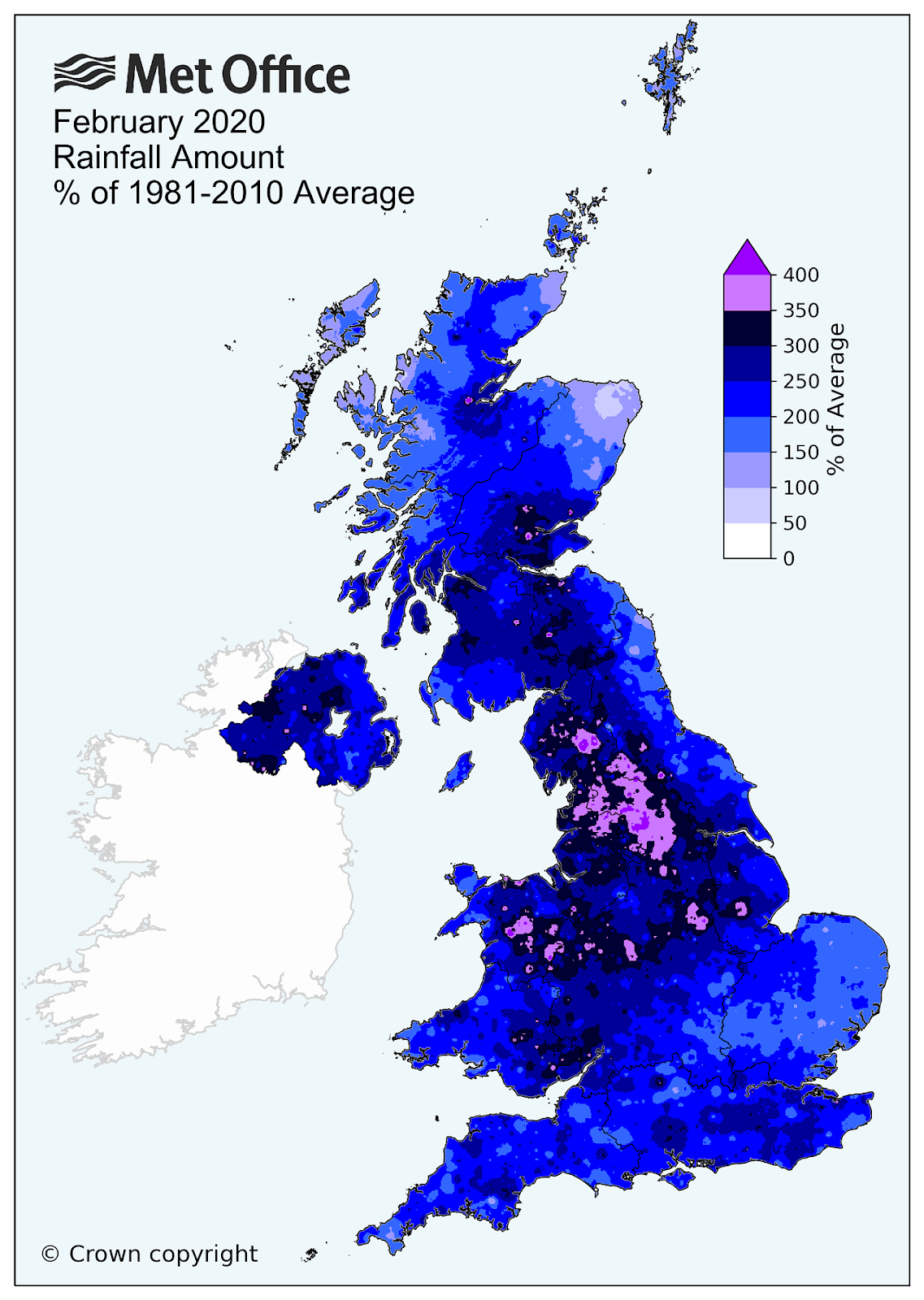 Source: https://www.metoffice.gov.uk
The record-breakingly wet February had followed a series of record floods across the UK the previous November, when several areas in Yorkshire and Derbyshire were struck by a month's worth of rain in a single day and the river Don reached record levels, with some villages hit by their third "once-in-a-lifetime" deluge in the past 20 years. More than 500 homes were flooded and more than 1,000 properties were evacuated.
Dr John Marsham, a climate change researcher at the University of Leeds and the National Centre for Atmospheric Science, told the Yorkshire Evening Post that the extreme weather is proof of a climate emergency. He said: "It is exactly what we expect from our climate change research, the UK is getting hotter and you can see that in the Met Office report. We're headed towards catastrophic damage. It's going to get worse and we have to adapt quickly. What we do in the next 10 years is critical to avoid catastrophic climate change."
To make matters worse, nearly half of the world's coastal wetlands, which usually provide *natural protection *from storm surge flooding (as well as being important stores of carbon), have been lost over the last 100 years, due to sea level rises, global heating, human activity, and extreme weather events. Indeed, areas with more wetland coverage experience significantly less property damage from storms and floods (see section on wetlands).
Aside from the direct impacts on people's lives, homes and businesses, flooding can also cause hazardous chemicalsfrom old mines, industrial sites and sewage works to be swept up and dumped into rivers and onto farmland, posing a major threat to human health and ecosystems. After floods in the UK in 2012,levels of lead were much higher in rivers and were sufficient to kill farm animals grazing on the land. Following the floods resulting from Hurricane Harvey, there were several incidents of leaks at toxic waste sites around Houston, and a new report found around 2000 similar sites near the coast of the US are in danger of being flooded. This will be a big issue with flooding in the future.
Storms and floods also have huge economic impacts, and some insurance companies are already warning that they will soon stop insuring basements in London, New York and Mumbai.
The UK Environment Agency estimated that the floods in England in 2007 cost £3.2 billion and that the cost of winter floods across the UK in 2015 were around £1.6 billion, with insurance policies of many of those worst hit not covering the full losses. The clean-up bill following the storms in the UK in February 2020 is set to top £360 million, with the average household claiming £36,000 on insurance. The UK National Audit Office estimates that for every £1 spent on protecting communities from flooding, around £9 in property damages and wider impacts can be avoided.
Follow the links to read about how more intense storms, floods and hurricanes are predicted to be impacting our world by 2050 or by the end of the century.