Intro to FreshDesk instance for tech@rebellion.earth - Draft
Introduction:
When a rebel emails tech@rebellion.earth, the message appears on the FreshDesk instance xruk.freshdesk.com. These emails are dealt with by a number of Agents. Our FreshDesk instance allows us to audit trail responses to these queries and provide feedback to both the original enquiring rebel and the various support functions within XR UK.
Operating the XR UK FreshDesk:
As an Agent, you will get access to the xruk.freshdesk.com instance. Normally, you will look at the current list of outstanding queries: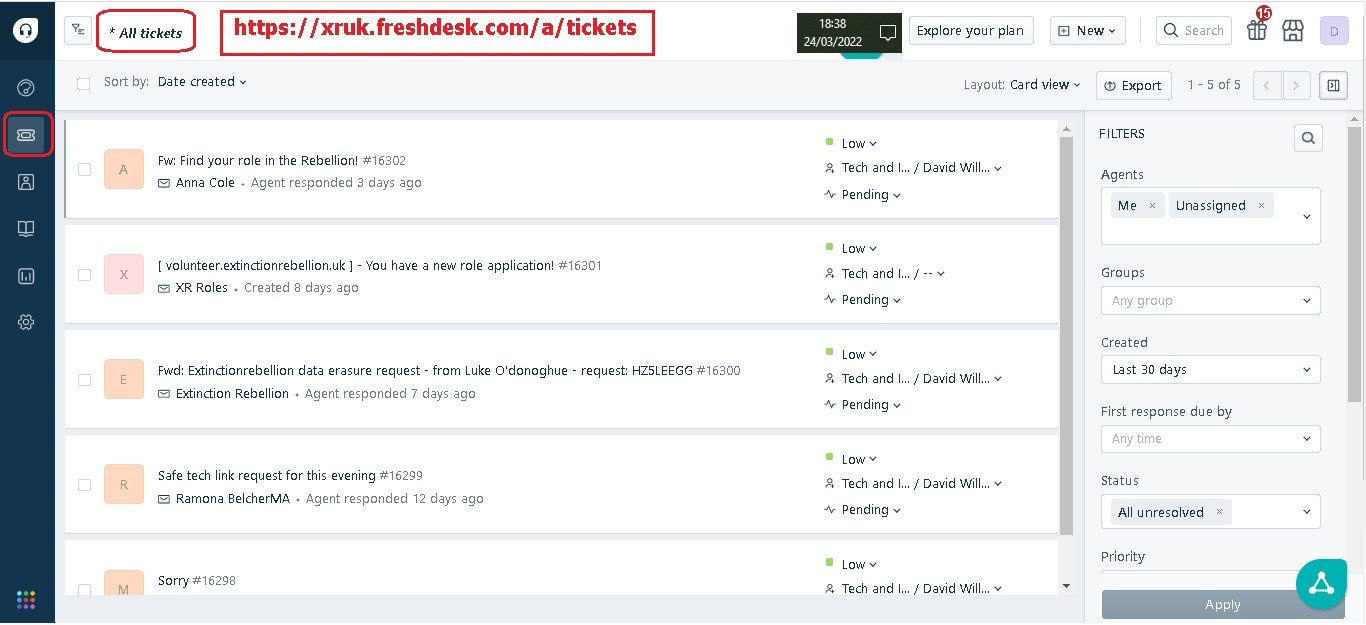 Any New Queries are flagged (none in above screenshot). You then select a Query to see original request - and any replies.
Here's a typical query thread: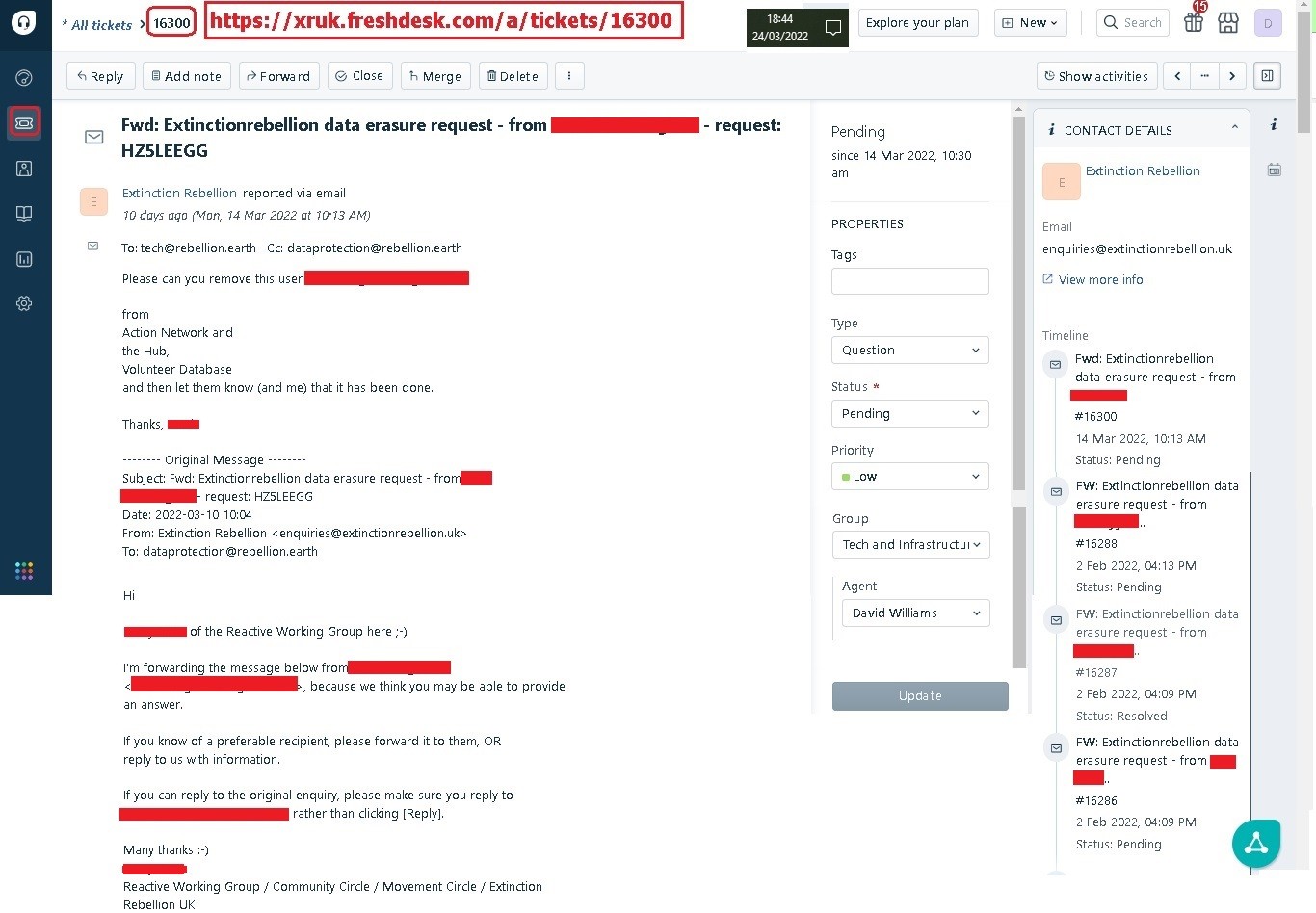 Resolving Queries
Requests for support generally fall into one of the following:
Comm's and Tech - questions about Hub registration, Mattermost, etc;
Action Network - email database and Data Team enquiries;
Applications for volunteer roles;
Requests for removal of user information;
Other general enquiries.
Often, a reply to the original email will suffice, but usually it is necessary to pass on the enquiry to a specific Agent, who is associated with that issue. Occasionally, the query may need to be passed on to others, outside FreshDesk.
Further Functionality
There's an Internal Messaging function for you to pass the query on to another FreshDesk Agent. In addition, you can forward the email thread to non Agents using their own email. This is useful when responding to rebel's requests for support outside Digital (i.e. Local Group Coordinators, etc.)
To the right of the email thread is a means to categorise the query, define the status of the query (i.e. Pending, etc) and which Agent is dealing with the query.
Further to the right is a summary of the query's progress.
Site Navigation
On the left of the page, you will see a dropdown list of navigation icons, at the top of which is:
Dashboard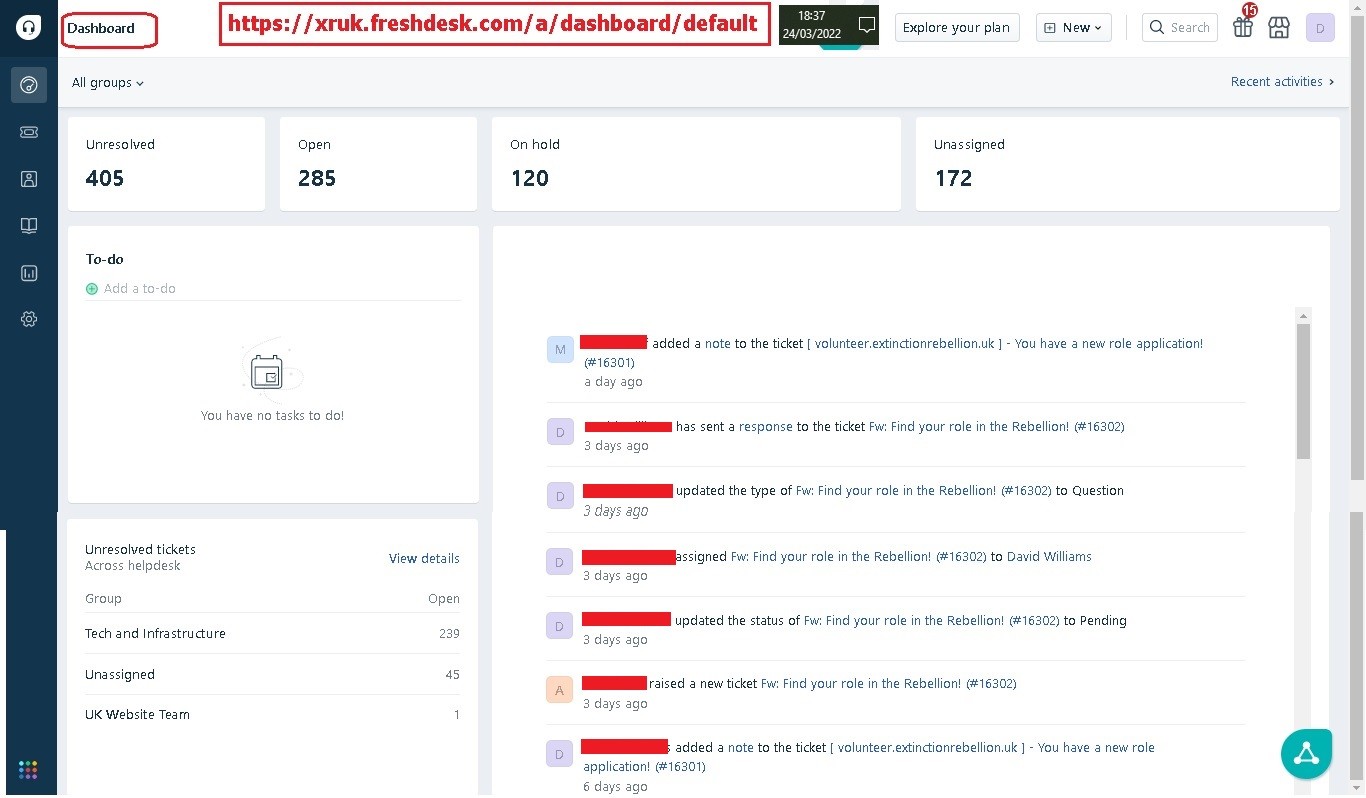 Other options include Contacts (name/email list), Solutions (help), Reports & Analytics, and Admin (list of Agents, etc).
All functions are straightforward. Our tech@rebellion.earth instance is the Free version of FreshDesk and is therefore quite basic - and easy to use.
...