Non Violent Direct Action NVDA
This module is essential for anyone that wants to go on an action, whether or not you are 'arrestable'. It will go into detail about all the different parts of an action and the roles you can take on, from well-being to de-escalation to being arrestable.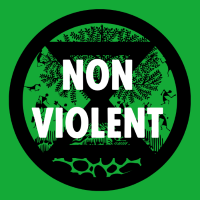 All Rebels planning to participacte in an Action should adhere to this.
You already have an idea for an action? This booklet tells you all you need to know for planning your action.
Join our next training to learn and practise facilitation skills in the context of nonviolence and deescalation.