START HERE!
Useful videos
A short presentation explaining all of the Hub Tools.
// Comment
Do we need to mention XR Digital at the start? Think as soon as members read Digital they switch off because that implies tech... XR UK uses three main... Mattermost (for instant chatting like WhatsApp/Signal/Telegram), Forum (for focussed long-term disucssions on individual topics) and Cloud (for document creation and storage). All three services (Mattermost, Forum and Cloud) can be used in your web browser and/or in an app. (How do I make text smaller?)
---
The Tools
XR Digital provide three main services: Mattermost (chat), Forum and Cloud facilities. All can be accessed via standard web browsers. There are also dedicated apps for Android and Apple mobile devices.
They are hosted on a community-owned - surveillance-free - server in the Swiss Alps running on renewable energy. The services also host public and private means to communicate and share information.
XR UK Communications Hub
The Hub was developed to assist in administering many aspects of the services such as user registration, creating resources and new groups within XRUK.
Connor: I think this is quite technical jargon. I think it is better to say something like: "The Hub links all of the different tools together and makes sure that you're added to the correct groups in each of them.".
Mattermost - UK Chat
The UK Chat service - Mattermost - is shared with XR Global which provides the option of joining in global conversations. It is known in the global community as Mattermost, so we will tend to use that name.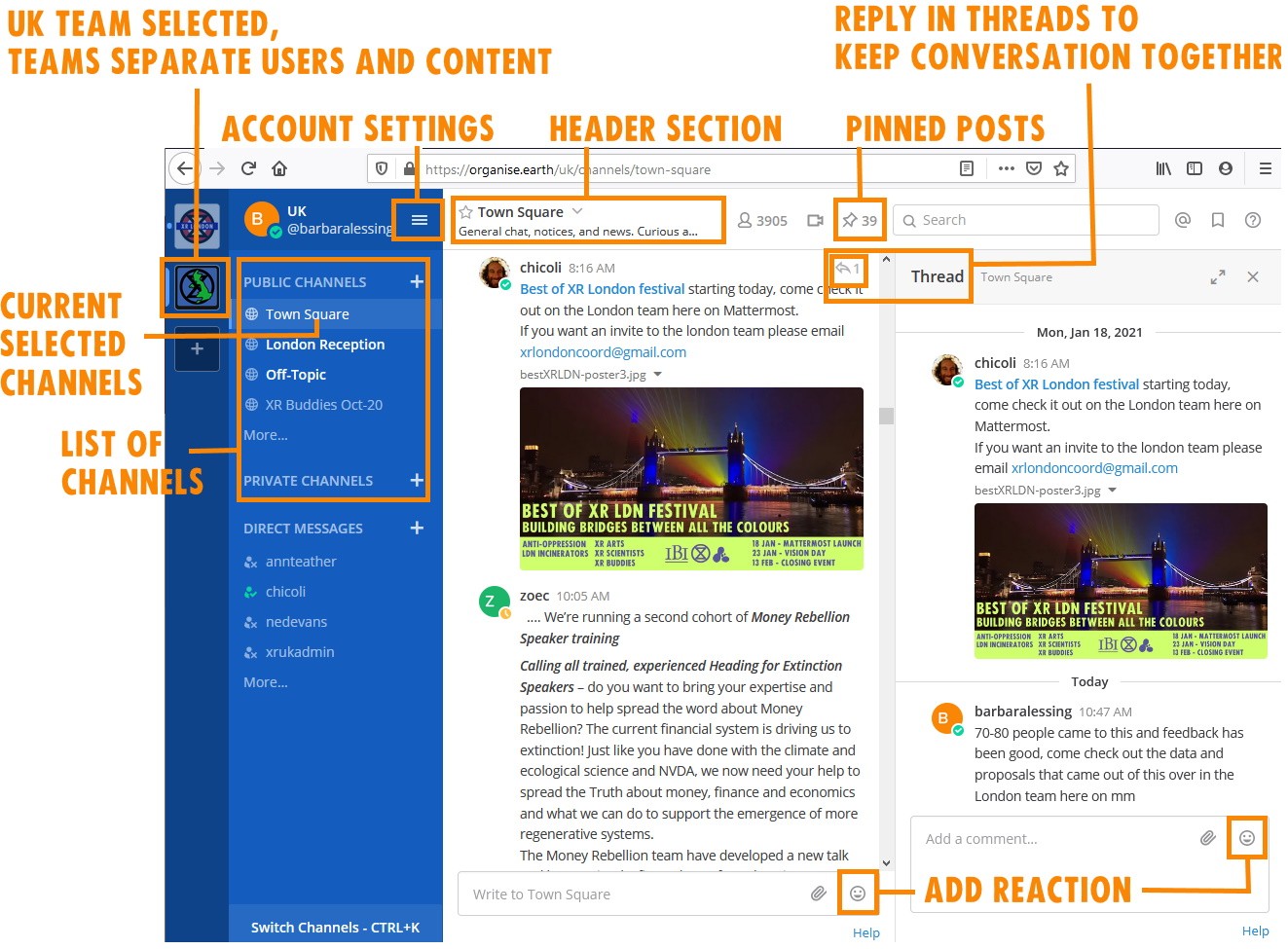 Connor: I think that this photo belongs in the "Intro to Mattermost" section below.
**Blah blah blah Ned insert useful intro here please... **
UK Forum
The Forum is used to host discussion threads.
UK Cloud Storage
UK Cloud is for documents and files. It should be used to host files previously held on other media such as Google Docs. It hosts the XR Library, and provides a calendar and project management tools.
Connor: We should mention here that it is considerably more private than Google Docs.
Note: other tools such as Telegram and Signal will be used locally within various teams.
Mattermost, UK Forums and UK Cloud are all based on downloadable open source code: Mattermost, Discourse and Nextcloud.
Connor: I think that this is unnecessary jargon for a newbie.
Joining the Hub
...
A Quick Introduction to Mattermost
...