How do subscribers join the email list?
XRUK List
Pointing people to the UK website extinctionrebellion.uk is the very simplest way to get someone on to Action Network. The 'Join Us' form is near the top.
Local Groups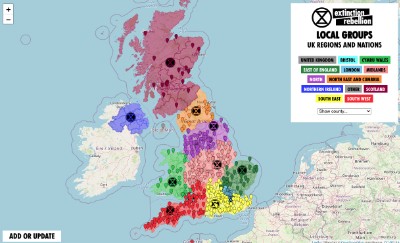 This Local Group Map is a list of all known XR groups in the UK. Most have Action Network email lists. When you click on the map pin and then click 'JOIN GROUP' you will be taken to a form allowing you to be subscribed to that particular Local Group. (If they don't have a list, then the subscription defaults to the Nation/Region list).
Local Groups can now have a dedicated shortlink in the style of joinxr.uk/localgroupname - see the Local Group Sign ups page for more information.
All subscriptions cascade 'up' the geographical list structure i.e. if you sign up to Birmingham, you will also be signed up to the Midlands and UK lists.
The map can be viewed at extinctionrebellion.uk/act-now/local-groups on the XRUK website, and also can be accessed directly at map.extinctionrebellion.uk
Request updates to the Local Group map by clicking the Add or Update button on the bottom left of the map